Jazz Release by Kimiko Ishizaka: 'New Me!', features jazz harmonies with classical forms
Kimiko Ishizaka is the first of three child prodigies born to German-Japanese parents in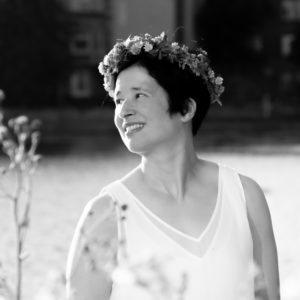 Bonn, Germany. Piano studies began at the age of 4, with her mother, followed by conservatory studies with Professor Roswitha Gediga-Glombitza at the Hochschule für Musik Köln. Further instruction came from Prof. Peter Feuchtwanger, Prof. Karl-Heinz Kämmerling, the Alban Berg Quartet, and the Amadeus Quartet.
From the early age of five, Ishizaka distinguished herself as a soloist and chamber performer, especially in the context of the Ishizaka Trio, which consisted of her and her younger brothers (violin, cello).
In its 16 year history, the Ishizaka Trio was widely recognized and praised. Kurt Masur, the Gewandhaus Music Director, stated, "These three siblings play with an extraordinary musicality, huge impetus and amazing balance."
Upon winning the German Music Competition in 1998, the press reported that they "were in a class of their own – the Ishizaka Trio from Bonn – who, with Maurice Ravel's Piano Trio in A Minor, literally played the competition into the wall."
Other prizes won by the Ishizaka Trio include:
The Vittorio Gui International Chamber Music Competition
Three consecutive 1st prizes in the International Charles Hennen Competion in The Netherlands
The Menschenskinder prize from RTL (1995)
Since 2000, Kimiko Ishizaka has been primarily active as a soloist, performing concerti from Mozart, Beethoven, Grieg, and Gershwin, and establishing herself as an interpretor of Bach and Chopin:
"a gifted and obviously devoted Bachian" – James R. Oestreich, New York Times
"[Ishizaka] opened the evening with excerpts from Chopin's Préludes op. 28 and Etudes op. 10 and showed not only her formidable technique, but also much feeling and sensibility for the subtle tones between the notes." – Guido Krawinkel, Bonner General-Anzeiger
Recent solo appearances at music festivals have included:
Festival du Domaine Public (Paris, France, 2015)
Arizona Bach Festival (Phoenix, USA, 2014)
Beethovenfest (Bonn, DE, 2013)
Hack. Make. (Netherlands, 2013)
Dreamers Renegades Visionaries: The Glenn Gould Variations (Toronto, Canada, 2012)
In 2012 she received worldwide attention and recognition for her innovative recording of Bach's 'Goldberg Variations', a project which was financed by her fans using the crowdfunding website Kickstarter.com, and which Ishizaka released directly into the Public Domain according to her wishes to make Bach accessible to as many people as possible. The recording was praised for her interpretation and for the excellent recording quality:
"Ishizaka's interpretation is characterised by straightforward musicianship, immaculate technical aplomb, and a warm, beautifully modulated sonority. Counterpoint passes back and forth between the hands in a conversational and judiciously balanced manner, while a strong lyrical impulse informs the cross-handed variations' rapid, bravura passages." – Jed Distler, Gramophone Magazine
"She has the fleet fingers to speed through the virtuoso variations with compelling clarity and the sensitivity to probe the dramatic potential of the slower, more profound numbers, pleasurably aided by her consistently lovely tone. " – Robert Schulslaper, Fanfare Magazine.
Kimiko's recording of Bach's "The Well-Tempered Clavier" Book 1, was released in March, 2015, on PARMA Recordings "Navona" label.
"Yet in all the years, all the versions, I have never heard 'Book 1' done better than on the new recording by pianist Kimiko Ishizaka" – Grego Applegate Edwards.
In 2017, Kimiko ran a successful Kickstarter.com campaign to finance her recording of Bach's "Kunst der Fuge". Kimiko composed the ending to the piece, which was otherwise left unfinished at the time of Bach's death.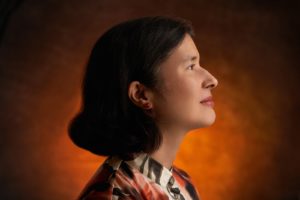 In 2019, Kimiko released an album of 10 pieces that she composed herself. The album, titled 'New Me!', features jazz harmonies with classical forms.
Away from the piano, Ishizaka is a dedicated athlete, and cultivates her love of the English language and literature.
---
As one of our Featured Musicians, you can listen to Kimiko Ishizaka's 'New Me!' tracks on our 24/7 station, Jazz Radio International. Click on our stream or listen on our music player below.